News
Buddhist sites across South East Asia to be mapped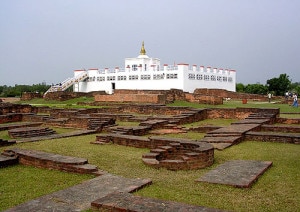 KATHMANDU, Nepal- In a bid to promote tourism at Buddhist historical sites spread across South East Asia, including Nepal, the National Atlas and Thematic Mapping Organisation (Natmo) India and the government of Thailand are jointly coming up with a detailed map.  The map would be loaded with information on such hotspots located at least in 11 countries in the region.
The map that would have to be completed within two years, would not only contain Buddhist archaeological sites but also detailed information which tourists usually seek – accessibility, time to visit, accommodation, historical perspective among others.
The map will include different Buddhist sites in the countries including Lumbini in Nepal, Bodh Gaya, Sarnath, Sanchi, Ajanta in India, Anuradhapura and Polonnaruwa in Sri Lanka, Ayutthaya in Thailand, Ankor Thom in Cambodia, Borobudur in Indonesia, Nara in Japan and Lung-men caves in China among others.
Apart from this, each of the 11 nations would contribute with at least 8-10 sites in the project.
Countries such as Bangladesh, where there are not many sites, have assured to identify 2-3 sites.
"While eight countries including Vietnam, Thailand and Myanmar have already joined the league, others would join in soon," Baisakhi Sarkar, deputy director of Natmo in Kolkata was quoted by an Indian daily Hidustan Times as saying.
According to Sarkar, the issue has been discussed at the government level of the concerned countries.
To prepare the map, experts are taking the help of satellite images from Cartosat – an Indian earth observation satellite.
"Even though we are now including only the existing archaeological sites, in future, new sites which are being excavated and discovered by archaeologists would be included in the map," the report quoted official as saying.
There are more than 400 million Buddhists across the world with a significant number of them living in South East Asian countries. Lumbini, Boudhanath, Swyambhunath are some of the major Buddhist shrine in Nepal.