News
Tourism enterprise blooming in Nepal's southern region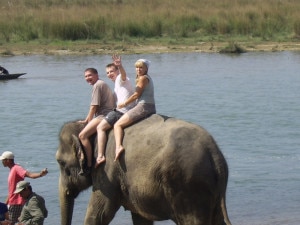 KATHMANDU, Nepal-The main trade hub for the mid and far-western development region is gradually developing into a fertile land for hotel enterprises in the recent days.
Located in the south belt of Nepal, this region is reportedly making a transaction of around twenty million rupees daily and hotel enterprises were the foundation for the tourism development of the regions.
With the large number of domestic and foreign visitors travelling to observe Banke National Park (BNP) was on the rise, establishment of hotel and restaurant business along with home-stay services were escalated in the region, a Banke based reporter Sanad Sapkota told Nepal Mountain Focus.
Among the 1,300 hotels operating in mid and far-west region, Banke alone houses almost 800 including some middle and small scale hotels and lodges. According to the Hotel Association of Nepal (HAN), Banke Chapter, numerous hotels and lodges serving in this region have been flourishing.
Among the Indian tourists who visit in Nepalgunj, some head directly towards Bardiya National Park for site visit. Sneha, Batika, Siddhartha View, Kitchen Hut, Taj Darbar hotels are some of the well-furnished hotels of the region.
The hotel business has a bright future if hotel tourism was well managed properly, Hari Sapkota, a Bardia based reporter told quoting the statement of the local entrepreneur as saying.
In the meantime, local youths from Subarnapur and Thori villages, which are regarded as rich in natural beauty and biodiversity in Parsa district, are working together to develop the area into eco-tourism destination. The youths have formed the Society for Chure Eco-tourism and Biodiversity Conservation in the northern belt of Parsa Wildlife Reserve. The villagers have also contributed to support the campaign with great vigor.
'The locals are actively working to develop their area into a visitors' choice and have also devised a plan to draw foreigners,' a local environmentalist Rakesh Yadav told.
Locals have vowed their support to keep the villages neat and clean besides making it eco and tourism friendly.