News
Nanga Parbat shot out might peril future of Pak mountaineering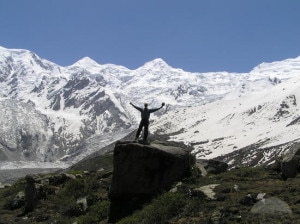 KATHMANDU, Nepal- Sunday, June 23, 2013 is the black day for all the mountaineering sector across the world as at least 11 mountaineers on their attempt to scale the world's ninth highest peak Nanga Parbat in Pakistan were shot dead by an unidentified gunman at the base camp of the Himalaya. But mountaineering experts fear the incident might have negative impact on the overall tourism in the Muslim nation.
Experts related to the mountaineering sector in Nepal have expressed their concern about the future of mountaineering in Pakistan following the Nanga Parbat incident. "Mass murder at the Nanga Parbat might create negative impact in the overall tourism sector of Pakistan," said the mountaineering experts here.
And it is not only the Nepali mountaineering experts are concerned because they lost their devoted mountaineer and friend in the incident but because the incident occurred to coincide diamond jubilee year of the mountain and hundreds of climbers and mountaineers are to gather to celebrate the function.
"This year is the diamond jubilee year of the mountain and currently there are a number of expedition team to climb the last Himalaya of the Himalayan range," said former president of Nepal Mountaineering Association (NMA) Ang Tshering Sherpa.
According to him, the unpleasant incident will create negative impact on the tourism sector of the country. "We have also coordinated for a number of expeditions at the Nanga Parbat but this is the first ever incident resulting in the murder of a tourist waiting at the base camp," he said.
According to Nepal Mountaineering Association (NMA), the mountaineering sector should be regarded as a peaceful sector. Tourism is the only sector that unites people and country though they are divided by politics therefore climbers should be regarded as people representing peace and harmony, it said.
During the recent shot out at the base camp of the peak, Sona Sherpa, a permanent resident of Solukhumbu Nepal, is one among the 11 killed.
News reports that quote authorities said there was a group of armed men dressed in police uniform who attacked the tourists staying in the base camp at 4200 feet from the Nanga Parbat.
Around 10 – 11 people were killed which included climbers from Ukraine, China, Russia and Pakistan.
Nanga Parbat is the ninth highest mountain in the world and the western anchor of the Himalayas. According to the mountaineers, the Himalaya is the much isolated.
Located in the Gilgit-Baltistan region of Pakistan, Nanga Parbat is one among the peaks that are above eight thousand metres, with a summit elevation of 8126 metres.