News
Well-heeled Nepali holidaymakers raise outbound records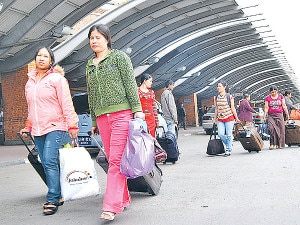 KATHMANDU, Nepal- A government record has revealed that the Nepali citizens going abroad for holidays rose significantly in the recent years along with foreign trips for medical treatments, conferences, studies and trainings.
According to the Ministry of Culture, Tourism and Civil Aviation, the number of Nepali fun seekers travelling abroad jumped 80 percent in the last five years.
Nepali outbound rose 22.47 percent to 39,269 departures in 2012. In 2008, outbound amounted to 21,899 departures.
Travel trade entrepreneurs said that affordable tour packages and rising disposable incomes were the reasons behind the trend of going on foreign trips. The ministry data states that among the 861,518 Nepalis going abroad in 2012, vacationers made up 4.55 percent.
Thailand is the most preferred destination for Nepalis with 67 percent of the total travellers choosing the land of white elephants.
According to the statistics of the Tourism Authority of Thailand (TAT), 26,277 Nepalis visited Thailand in 2012, up 3.53 percent year on year. Among the departures, 8,391 persons had gone on package tours.
TAT's stats show that the length of stay of Nepalis in Thailand averaged 8.61 days in 2012, the highest among South Asian visitors.
Nepalis spent US$ 133.12 per day (Rs 11,700) in Thailand in 2012. In aggregate, Nepali outbound spent US$ 30.17 million (around Rs 2.70 billion) there. The stats show that a larger portion of Nepali spending goes to shopping and accommodation.  As per TAT, each Nepali spent Rs 3,847 daily on shopping.
Tour operators in Nepal are organizing an average tour package to Thailand at cost around Rs 50,000 per person that includes return airfare, four-night and five-day accommodation and taxes.
Likewise, it has also been a trend that a countable number of Nepali travellers were heading to emerging destinations like Dubai, Manila, China and Bali for holidays and shopping. The preferred time to travel is September-November, which is the festival season in Nepal.
Tour operators said that more Nepali travellers had also been making trips to European destinations in recent years. Well-heeled Nepali holidaymakers who have been to Thailand are choosing Europe for their next trip, they said.
Meanwhile, the ministry stats show that Nepali outbound for business purposes dropped 5 percent to 19,318 in 2012. However, the number of Nepalis going abroad for conferences has jumped 23.33 percent to 16,507. A greater number of people are going abroad for medical treatment. The stats show that Nepalese travelling abroad for health check-ups amounted to 13,575 last year, up 16.29 percent.
Similarly, outbound numbers for study and training have increased significantly. There were 40,295 Nepalis travelling abroad for study and training in 2012. The figure was 36,763 in 2011. Last year, Nepal welcomed 803,092 foreign tourists while 861,518 Nepalese journeyed abroad. (with inputs from Kathmandu Post)