News
Climbers felicitated with chariot precession on Everest Day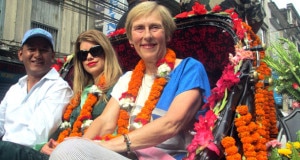 KATHMANDU, Nepal- The government, on the occasion of Diamond Jubilee Celebration of the first ascent of Mount Everest, has felicitated the record holder climbers with chariot procession on Wednesday.
The procession started from the premises of Nepal Tourism Board to Basantapur, the Kathmandu Durbar Square has felicitated the national and international record holder climbers.  The government is commemorating the 60 years of first human ascent on Everest through out the year 2013 with special functions for the last four days.
The government has also feted family members of Tenzing Norgay and Hillary with chariot procession.
In the same way, the only living member of the 1953 first Everest ascent Kancha Sherpa, was also felicitated on the occasion.
Likewise, 21 time Everest summiteer Furba Tasi Sherpa, climber to climb all 14 peaks above 8000 meters Nima Nuru Sherpa, climber to climb Everest 3 times in 9 days Kami Sherpa, climber to climb without artificial oxygen, president of International Mountaineering Association and oldest climber Min Bahadur Serchan among others were also felicitated on the occasion.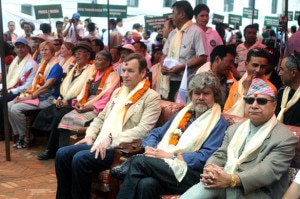 To mark the anniversary of the first summit of Everest on Wednesday, Hillary´s son Peter and Norgay´s son Jamling will join Queen Elizabeth II at a diamond jubilee event at the Royal Geographical Society in London.
Celebratory events at Everest include a clean-up campaign at base camp and a high-altitude marathon.
In the capital Kathmandu, a gala featuring record-setting summiteers and top brass from Nepal´s government will be held at the city´s former royal palace.