News
465 mountaineers atop Everest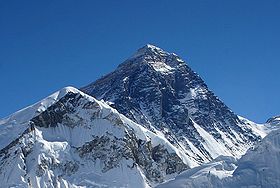 KATHMANDU, Nepal-World's highest Peak Mt. Everest has witnessed huge numbers of climbers scaling the peak this year. A total of 465 climbers made it to the peak till Wednesday, according to the Ministry of Culture, Tourism and Civil Aviation. The number is historic in itself and it will rise continuously as some of the mountaineers are in their bid while others are waiting their turn at the base camp. Numerous historic records have been hold so far after the first team atop the peak on May 16, this season.
First woman from Arab region, first Qatari royal, actress, actress, siblings, amputee, joint army team, oldest person among others have atop the peak, creating their own history on Everest this season. Likewise, 9 mountaineers and Sherpa guide died during the course of climbing Everest as of Wednesday.
Generally Everest is crowded with mountaineers in spring and winter, however the number is excessive high in spring since there is neither too much cold nor warm in this season.
'The number of climbers scaling the peak is highest ever and the figure will be increasing since large numbers of passionate climbers are awaiting their turn at the Base camp', spokesperson at the Ministry Mohan Krishna Sapkota told.
Generally, the 'fair weather window' on Everest last for 4-5 days, while this season, it has opened for more than a week, giving more opportunity for the mountaineers to scale world's highest peak.
According to a data provided by the Tourism Ministry, the highest number of climbers in Everest was recorded in 2012 when 406 aspirant mountaineer succeeded to step foot on it. 'However, more than 700 mountaineers would atop the peak this season', a government official at the ministry speculated. According to the data, 385 mountaineers had reached the top in 2008.
There was a record of 135 mountaineers making it on the top on a single day since the China banned the climbing from the north face citing the preparation for the Beijing Olympic torch run to the peak. However this record was also broken in 2012 when 179 mountaineers scale the peak on a single day owing to traffic jam made by 'small weather window.'