News
Italian Consul General Joel Melchiori visits EvK2Cnr headquarters in Kathmandu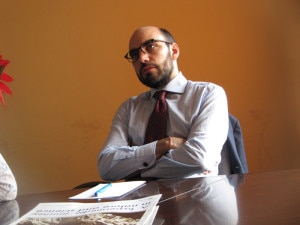 KATHMANDU, Nepal- The Consul General of Italy in India Joel Melchiori has visited the offices of the EvK2Cnr in Kathmandu today.  During his visit, Melchiori inspect Suskat Station (Sustainable Atmosphere for the Kathmandu Valley) installed by the Committee, which monitors the 'atmosphere in the city of Kathmandu in the project Abc "atmospheric brown cloud" of UNEP. Researcher Bhupesh Adhikari, Scientific Coordinator of the Share project, explained the visiting delegates about the project Suskat, the station and its operation.
Melchiori said he was very impressed and thanked the staff EvK2Cnr for inviting him to closely observe these projects.
He said that he would talk with the Italian Ambassador to India Daniele Mancini who is visiting Nepal about the projects and assured hat the Ambassador will support the project.
The Consul General Melchiori also wanted to know about the various ongoing projects and talk about their future. He stressed that we should "strengthen trade relations between Italy and Nepal. I think there is ample room for entrepreneurial projects that promote the trade of raw materials, "adding that" the Italian government should work on this, after the improvement of the economic situation. "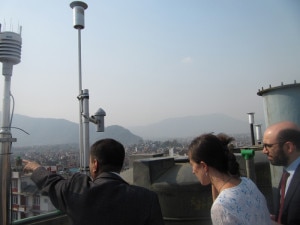 Praising the results achieved by EvK2Cnr to date, Melchiori said that Italy and Nepal should also work on strengthening the cultural and scientific cooperation. "EvK2Cnr in Nepal has been the major scientific project for the last 25 years, Melchiori said adding that its an assets for relations between Italy and Nepal. He also stressed the need to work more to make all know the importance of the things that EvK2Cnr has actually doing here in Nepal.
Citing his recent meeting with the Vice Chancellor of NAST (Nepal Academy for Science and Technology) Prof. Dr. Surendra Kafle, Melchiori said that NAST has a lot of confidence in the cooperation with EVK2CNR. He informed that the NAST participate in Expo 2015 in Milan and asked EVK2CNR to cooperate.
Researcher Adhikari also made ​​a power point presentation on monitoring and operation of the station Suskat, while the engineer Hari Kumar Shrestha, consultant to the local office of the EvK2Cnr, informed the visitors about EvK2Cnr's other projects in Nepal.
Melchiori was accompanied during the visit by his wife and staff of the Italian consulate in Kathmandu.